So you've made the decision to relocate your business. Now you have a big challenge ahead – creating a floor plan for the new office. What should the new office space look like, and what furniture should we bring from our current office? The process of creating a floor plan involves taking measurements and drawing a detailed plan of where all furniture and equipment should go in the new space.
Moving office is generally a stressful and difficult project and it often involves some issues. However, coming up with an accurate floor plan before the business relocation will help you avoid many troublesome situations during the move.
By creating a floor plan with the exact sizes and shapes of your furniture, you will be able to decide where all the pieces will fit best. You will also know what you have to buy and what their dimensions should be. Mapping how all the items will be arranged in the new office can also give you a peace of mind during the move. If you really make an effort and create a detailed floor plan, you will be able to hand it over to the movers who can then arrange the move without involving you too much.
Measure the location of electric outlets and other installations
In an office you need plenty of electric outlets. Locate all the outlets and mark their exact position on your sketch. This helps you see how many outlets there are and to decide where to place all the items that need electrical supply. You might also realise that you will have to install more electrical supplies and can decide where to place these.
Measure your furniture
Make sure you measure every piece of furniture that you would like to bring to the new office. When you then create the floor plan with all furniture, you might realise that some pieces won't fit in and that you might have to buy some new furniture. A floor plan helps you decide which pieces of furniture you can move into the new office and where they will fit in.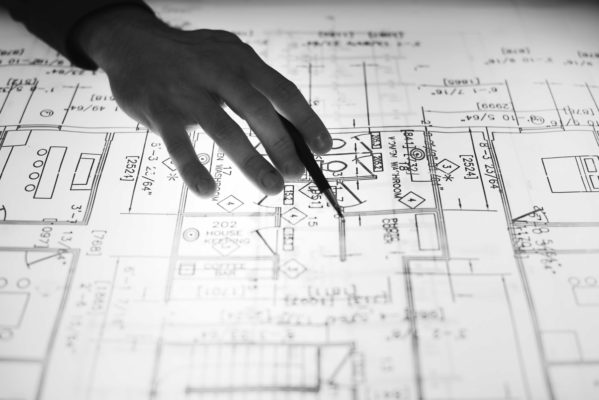 Tools to create the floor plan
There are several tools for creating a floor plan for your new office. You can for example use a free online tool where you can enter the sizes of your pieces of furniture, as well as the dimensions of the available space. You can also play around in the tool and create different layouts and then compare the versions to see which one you prefer.
Another option is to use a mobile app, where you can take photos of the office and furniture. Some apps will then draw a floor plan for you with all the measurements.
Mistakes to avoid when creating a floor plan
There are some common mistakes when creating a floor plan that you should try to avoid.
Ignoring safety and convenience. Make sure to plan the layout so it's safe for the employees. Mark all the emergency exits and windows and make sure you plan the layout so these aren't blocked in case of emergency.
Exceeding your budget. Moving can be very costly. When creating the floor plan, make sure to consider the cost of the furniture and equipment you've included on your graph sketch.
Don't paying attention to the acoustics. The quality of the acoustics is really important in open offices. You will have to find ways to reduce noises, such as thinking about where you place certain equipment, as well as using acoustic materials.
Contact your Office Movers today
Once you have a floor plan, you should hire a moving company to handle the relocation for you. Business Relocations has handled thousands of successful office moves of all sizes throughout New Zealand. Our business movers are highly experienced in planning, packing, moving and unpacking your belongings. We've been helping Kiwi businesses for over 15 years and we are offering several different specialist moving services. Get in touch with us today!